Australian Codes include reinforcement stress limits aimed at providing acceptable crack widths, but this simple approach may not achieve the recommended crack widths given in guidance notes (e.g. CIA Z7/06). Required crack widths are not given in the Australian Codes, except the AS 3735 commentary which provides an inaccurate indication of the crack widths that might be achieved using the prescriptive requirements in AS3735, and this can lead to dispute over the acceptability of cracks.
Design for crack width control in Australia has long followed UK methods in BS 8007. In 2007, CIRIA C660 was released as the UK approach to sections in EN 1992 Eurocode 2 for crack control. BCRC introduced C660 to Australia by running a course in Sydney in 2007, with its author and BCRC consultant, Phil Bamforth as the lead speaker.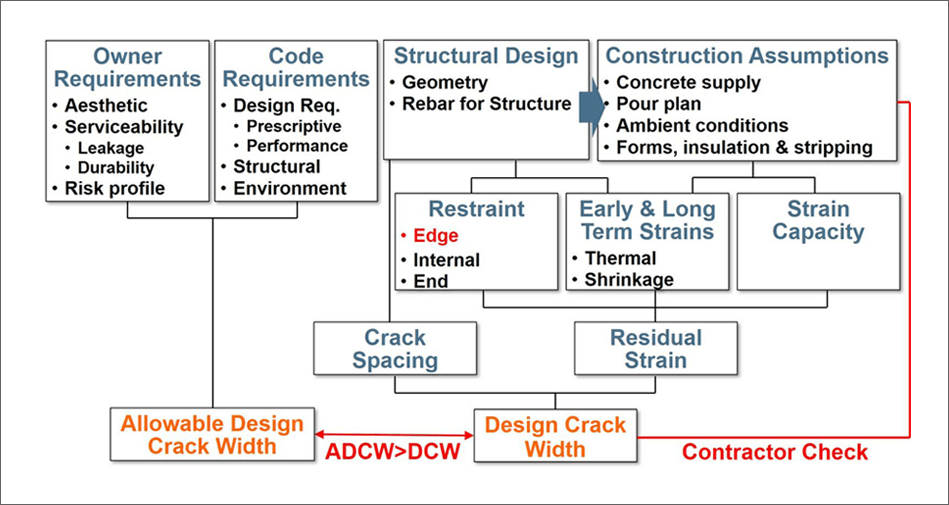 In 2018, CIA Z7/06 was released as the Australian method of design for crack control and CIRIA updated its approach in C776 in 2019. Conflicts between these documents, and the extensive experience gained by BCRC's four experts in design for crack control, led BCRC to have a 3 day workshop in August 2019 with all its staff to review and develop the company approach to all aspects related to crack measurement and control, and heat of hydration. A technical guidance note along with spreadsheets to accurately calculate crack widths is under preparation.
BCRC continues its involvement in developing codes for crack control with Frank Papworth participating in an fib international committee developing a position paper on 'Cracking and Durability' with the brief of writing relevant paragraphs for Model Code 2020.